How to get involved in Healing Awareness Week
Healing Awareness Week takes place this year from 6th to 12th May.
We're aiming to introduce the concept and benefits of Healing to a wider audience to inform and inspire people in our local communities to experience it for themselves.
Our focus this year is to let people know how Healing and self-help can contribute to wellness and help change life in a positive way.
What can you do to support Healing Awareness Week?
If you're a healer you could....
Ask your local radio station for a short spot to talk about Healing Awareness Week

Tell us about a case study that we can share – you don't have to mention names
Offer to speak about wellness at a local group meeting or club

Arrange a visit to a local employer to share some self-help techniques during lunchtime
Approach your local GP surgery, hospital or care home to demonstrate Healing.
If you're a supporter of Healing you could....
Share Healing Awareness posts via social media

Distribute posters or leaflets about Healing in your area

Host a coffee morning to talk about Healing and wellness with like-minded people

Make The Sam Buxton Sunflower Healing Trust your chosen charity to receive funds from any regular groups or events during Healing Awareness Week

Share your experiences of Healing with friends or by talking at local groups.
If you have never experienced Healing, but are interested, you could....
Spend a little time reading through our website and other sources of information on Healing

Keep an eye on our events page for any events in your area

Go along to local talks or demonstrations of Healing

Invite a local healer to come and talk to your group or meeting about what they do

Ask us about healers in your local area.
This year, any funds raised through Healing Awareness Week activities will go to The Sam Buxton Sunflower Healing Trust, which provides complementary healing therapists to work alongside conventional medicine.
Please do get in touch if you have ideas on how you might get involved, so we can help. We have more ideas, resources and toolkits in the pipeline to help you plan and promote whatever you choose to do.
We're very thankful for your support.
Supporting Your Events
Four leading healing organisations have come together to support Healing Awareness Week, to publicise the initiative and encourage healers around the country to run events locally during the week of 6th to 12th May 2019.

Promoting Healing Awareness Week
We will publicise Healing Awareness Week through our existing marketing and social media channels, advertising, public relations, websites and newslettters. Please like and follow our Healing Awareness Week Facebook page @HealingAwarenessWeek and please share our posts.

Promoting your events on our websites
There will be a specific Healing Awareness Week page on each of the four organisations' websites where events can be listed.
All money raised during this week will be returned to a central contact and distributed to the chosen charity:
Sam Buxton Sunflower Healing Trust
www.cancertherapies.org.uk/SBSHT

Getting In Touch
To find out more and request publicity materials, contact us at any of the participating organisations or visit our websites below:
www.britishalliancehealingassociations.com

Downloads
Please click on the links beneath the pictures to access the full size downloads.
Healing Awareness tri-fold public leaflet - Download file - coming soon!
(You will need to set your printer to Landscape and print both sides of the paper)

The below posters are for you to download and promote Healing Awareness Week.

General poster - Download file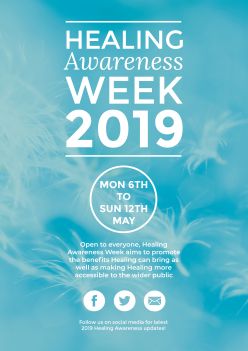 Event poster - Download file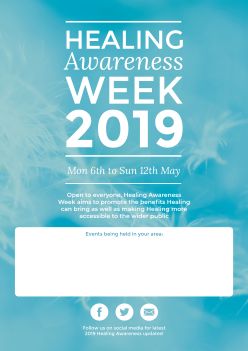 Please see below for a list of national events (updated regularly):